KIND SIR CONSTRUCTION
Killing Construction With Kindness Since 2018!
As a modern residential general contractor specializing in kitchen, bathroom, and basement renovations and remodels, we are built on transparency, decency, and fairness. By combining our twenty three years of residential construction experience with twelve years experience investing in residential real estate, we endeavor to complete your project on time, and under budget, all while treating you and your property with the utmost care and respect.
Find out more about the services we offer and what to expect during the home renovation process.
GET A QUOTE!
We leverage technology to bring our customers a convenient, hassle-free project management process, and it all starts with our free quote. We understand the weight of the decision when choosing a company to perform work on something as precious as your home, and look forward to earning your trust .
Fill out our quote request form and get started with our simple, transparent renovation process today.

Frequently Asked Questions.
We get asked the same questions again and again, so we answered a few of them here. You can still text us or ask us again in person, though. We don't mind.
Our Work.
We're proud of our work, so we wanted to showcase some of it. Mostly we'll brag about ourselves on social media, though. When applicable.
Our Story
Our owner, Ben Leak, was paralyzed from the waist down in a car accident in 2000 at the age of 18, and in 2010 began investing in real estate. Many of the properties he purchased needed either renovation or remodeling, which he and his wife and business partner either did themselves, or which he began to project manage on his own. While completing the work on those investment properties, Ben quickly racked up terrible experience after terrible experience with subcontractors who failed to deliver on cost, quality, or timeframes they had promised or contracted.
After so many of these negative experiences, he and his wife and business partner would often remark to each other, "Well that was awful. If anyone did that with any decency and respect, they'd make a killing."
So he decided to start Kind Sir Construction. We hope you choose us for your construction project and give us a chance to kill your project with kindness!
We arrive on time and do our job safely, cleanly, and professionally.
OSHA Compliant and Insured.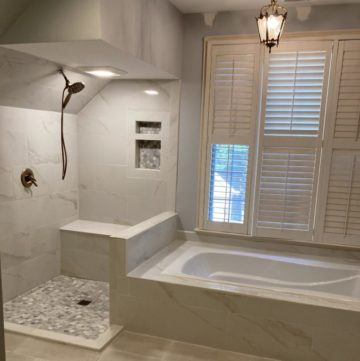 Kitchen & Bathroom Testimonials
"Recently I hired Kind Sir Construction to remodel our master bathroom and also our hall bathroom. This included new countertops, sinks, and a building tiled shower and tiled floors. The biggest most impressive change was in our master bath where they removed the old bath and built the tiled shower! The workers were well trained and took pride in their work. They took time to be sure the work was outstanding and they showed extra attention to the details. They were extremely professional, polite, and took the time to protect the rest of our home from any construction dust. I would most certainly recommend Kind Sir Construction to others and it was a pleasure working with Thomas the General Manager throughout the process!"
Jane Woods
Tucker, GA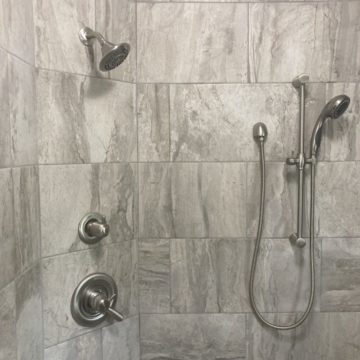 Kitchen & Bathroom Testimonials
"Everything went well. They were diligent, courteous, and presentable. The job was done promptly. The worksite was left in neat condition. I am totally satisfied with the job they did."
Kathryn Kemp
Angi Customer Review
Jonesboro, GA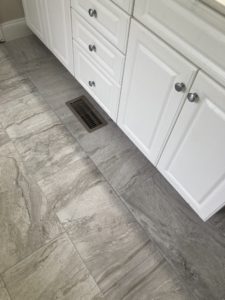 Kitchen & Bathroom Testimonial.
"They did a good job. Very receptive. They explain things very well. Very professional."
Tegra Rosera
Angi Customer Review
Rex, GA
Why Choose Kind Sir?
There's nothing mysterious about it. Our values of fairness, transparency, and integrity shape and guide us, influencing our actions daily. These values manifest in reality as a promise never to leave you with an unfinished project, never to heap unexpected costs onto your bill with unnecessary change orders, and a promise to respect the trust and faith you have put in us to provide you with timely, quality craftmanship and service.
Tell Your Friends!
If we have done remarkable work for you, tell the people around you who trust and value your opinion! There is no greater sign of gratitude than a positive review. Word of mouth works just fine, but if you want to make it official that Kind Sir killed your project with kindness, leave a review at any of the sites below. And of course, kind regards!
Leave a Review
The Kind Sir Way
It's simple, really. We answer the phone, respond to emails, call in advance and show up on time for appointments. We respect and value your time, and your decision to work with us.
We're Here to Help
We guide you step by step from the design phase to your final walkthrough. Keeping a steady flow of communication with you during the course of construction enables us to address any questions or concerns as they arise.
Online Access
Our simple online system makes it possible to access your project from any computer, tablet, or smartphone.

Location
Kind Sir
2179 Morris Ave.
Tucker, GA 30084
Hours
We are open Monday to Friday, from 8:00 am to 5:00 pm.
Address all mail to Kind Sir, 2179 Morris Ave Ste A, Tucker GA 30084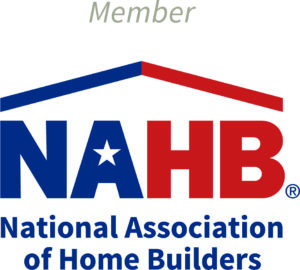 Kind Sir Construction is proud to be a member of NAHB.
You can visit our BBB profile by following this link.

Kind Sir Construction is a proud member of NKBA.